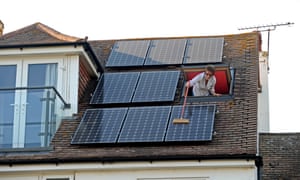 Homes hoping to shrink their carbon footprints by installing a solar-battery system face a steep VAT increase from October under new laws proposed by HMRC.
The Treasury put forward legislation on Monday to raise VAT for home solar-battery systems from 5% to 20%, on the same day that MPs are debating the government's new net zero carbon target for 2050.
Meanwhile, home coal supplies will continue to receive the lower VAT rate.
The Renewable Energy Association (REA) said the rise "contradicts the government's commitment to tackling climate change" only weeks after parliament declared a climate emergency.
It also warned that the move would push back the take-up of solar-battery systems by years even as the UK works towards becoming a net zero carbon economy by 2050.
Nina Skorupska, the REA's chief executive, said the increase would "create a barrier to British homes and businesses who are seeking to take action on climate change and reduce their bills by installing solar with battery storage"
She said the government "should be doing all it can to install these technologies rather than enacting barriers".
HMRC has blamed EU tax laws for the planned rise because they rule out lower VAT rates for energy saving equipment under state aid rules.
The European court of justice ruled in 2015 that energy saving materials should not have been receiving the reduced rate of tax. This led to an increase in VAT for solar systems installed at new-build homes in 2016, but did not affect the majority of houses which would require retrofitting. Those houses will now be affected by the higher rate.
The REA has called on HMRC to cancel the latest increase, which would come into effect as the UK prepares to leave the EU. Any rise should be cancelled as soon as possible after Brexit, the trade group added.
The calls have won the support of more than 11,000 members of the publicwho have signed a petition by the green energy supplier Good Energy to call off the increase.
Juliet Davenport, Good Energy's chief executive, said the rise was "possibly the worst way to respond to a climate emergency".
"The government should be seeking to be a world leader in renewable technologies, but it's damaging our successful solar industry and putting green jobs at risk. We urge the Treasury to listen to the thousands of petitioners who want to play their part in fighting climate change," she said.
HMRC brought the secondary legislation to parliament on Monday after carrying out an industry consultation on the plans in April and May this year. It has said it is offering as much tax relief as possible for home renewable energy systems while ensuring the UK is in line with EU law.
The 5% VAT rate will still be allowed for housing associations and buyers who are over the age of 60 or receive certain benefits.
The lower rate will also apply to the labour costs associated with installing the system while the 20% rate will be applied to the hardware only.
As the crisis escalates…
… in our natural world, we refuse to turn away from the climate catastrophe and species extinction. For The Guardian, reporting on the environment is a priority. We give reporting on climate, nature and pollution the prominence it deserves, stories which often go unreported by others in the media. At this pivotal time for our species and our planet, we are determined to inform readers about threats, consequences and solutions based on scientific facts, not political prejudice or business interests.
More people are reading and supporting The Guardian's independent, investigative journalism than ever before. And unlike many news organisations, we have chosen an approach that allows us to keep our journalism accessible to all, regardless of where they live or what they can afford. But we need your ongoing support to keep working as we do.
The Guardian will engage with the most critical issues of our time – from the escalating climate catastrophe to widespread inequality to the influence of big tech on our lives. At a time when factual information is a necessity, we believe that each of us, around the world, deserves access to accurate reporting with integrity at its heart.
Our editorial independence means we set our own agenda and voice our own opinions. Guardian journalism is free from commercial and political bias and not influenced by billionaire owners or shareholders. This means we can give a voice to those less heard, explore where others turn away, and rigorously challenge those in power.
We need your support to keep delivering quality journalism, to maintain our openness and to protect our precious independence. Every reader contribution, big or small, is so valuable.